Diabetes and your Feet
Diabetes is a serious disease that can develop from a lack of insulin production in the body or due to the inability of the body's insulin to perform its everyday functions. Insulin is a substance produced from the pancreas gland that helps process the food we eat and turn it into energy.
Neuropathy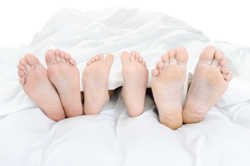 Of the 25 million Americans with diabetes, it has been estimated that 25% will develop foot problems related to the disease. Diabetic foot conditions develop from a combination of causes, including poor circulation and neuropathy. Those suffering from neuropathy can develop minor cuts, scrapes, blisters, or pressure sores that may not be felt due to insensitivity. If these minor injuries are left untreated, complications may result and lead to ulceration and possibly even amputation. Neuropathy can also cause deformities such as bunions, hammer toes, and Charcot feet.
Contact The Progressive Foot Care in New York City at (212) 228-5230 to get an accurate diagnosis.
Poor Circulation
Diabetes often leads to peripheral vascular disease, which inhibits a person's blood circulation. Poor circulation contributes to diabetic foot problems by reducing the amount of oxygen and nutrients supplied to the skin and other tissue, therefore inhibiting the healing of injuries. Poor circulation can also lead to swelling and dryness of the foot. Preventing foot complications is more critical for the patient with diabetes, since poor circulation impairs the healing process and can lead to ulcers, infection, and other serious foot conditions.
Your Daily Care
It is very important for those with diabetes to take the necessary precautions to prevent all foot-related injuries. Due to the consequences of neuropathy, daily observation of the feet is critical. By taking the necessary preventative foot care measures, you can help reduce the risks of serious foot conditions. If you have any foot problems or pain, contact Dr. Scott Melamed at The Progressive Foot Care in New York City - (212) 228-5230. We are here to provide you with the care you deserve for many years to come.
Foot Health Do's
Inspect your feet daily for blisters, cuts, and scratches.
Always check between your toes.
Wear shoes that are designed to protect your feet from injury.
Avoid extreme temperatures. Test water with your hands or elbows before bathing.
If your feet feel cold at night, wear socks.
Inspect the insides of your shoes daily for foreign objects and rough areas.
Shoes should be fitted by a foot-care specialist and be comfortable at the time of purchase.
See your foot doctor regularly.
Foot Health Don'ts
Don't smoke.
Don't soak your feet in hot water.
Don't walk with bare feet on hot surfaces, such as sandy beaches or on the cement around swimming pools.
Don't use chemical agents for the removal of corns and calluses.
Don't walk barefoot.
Don't wear mended stockings and avoid stockings or socks with exposed seams.
Don't use oil or creams in between your toes.
Don't cut corns or calluses yourself. Instead, see your doctor.